A 2018 study in California showed that homes in the area that had been upgraded were selling at least 9% more than the other units. Therefore, it is essential for rental property owners to keep their units up-to-date with the latest trends in order to maximize their investment.
If you're looking for ways to update your rental property and make it more appealing to modern tenants, you're in luck. There are a number of relatively simple and inexpensive ways to give your property a fresh, modern look that will make it stand out from the competition. Keep reading for five tips on how to add a modern flair to your rental property.
1. Paint the walls.
One of the quickest and most impactful ways to update the look of your rental property is with a fresh coat of paint. Stick to light, neutral colors like white, beige, or light gray for a clean and modern look. You could also paint one accent wall in a bolder color, like navy blue or forest green. Just be sure to choose a color that will complement your existing furniture and decor.
Remember that the color you choose can have a significant impact on the ambiance of the space. Darker colors can make a room feel smaller and more intimate, while lighter colors can make a room feel more extensive and more open. Choose the suitable color scheme for the feel you're going to want to create in each room.
It's also helpful to keep in mind that different colors can have different effects on people's moods. For example, blue has been shown to promote feelings of calm and relaxation, while yellow is known to boost happiness and energy levels.
2. Bring in some plants.
Adding some plants livens up any space and makes it feel more modern. Place large plants in the corner of rooms or by windows for an instant shot of life, or try hanging plants from the ceiling for a unique twist. Not only will plants help freshen the air in your rental unit, but they'll also add some much-needed color and personality.
When choosing the plants to add to your rental property, be sure to pick species that are known for being easy to care for. You don't want your tenants to feel like they have to put in a lot of work to keep the plants alive. Some good options include snake plants, spider plants, and succulents.
If you want to make things easy on your tenants, you could invest in some artificial plants. These days, some very realistic-looking options are available that require no maintenance.
3. Customize the windows.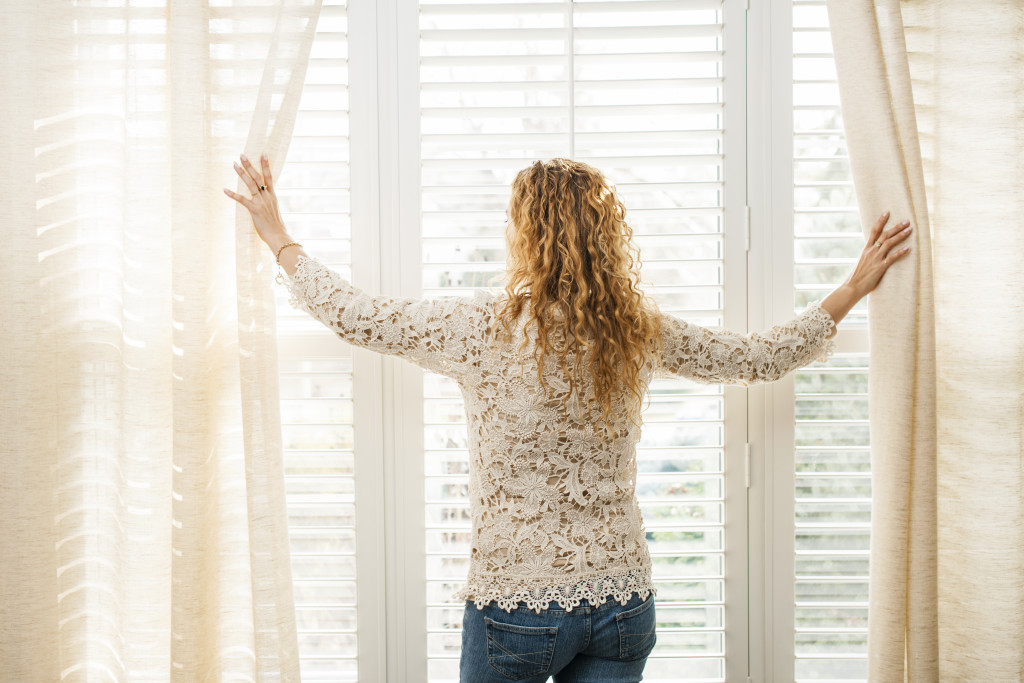 Another way to upgrade your rental property is by customizing the windows. Consider installing modern window roller shades that can help filter sunlight and give the rooms in your rental unit a softer, more inviting feel. If you want to let in as much natural light as possible, opt for sheer curtains that can be pulled back during the day.
In addition to choosing new window treatments, you could also consider adding some decorative hardware to the windows themselves. Simple things like new curtain rods or tiebacks can go a long way in updating a room's look. Just be sure to choose hardware that complements the style of your window treatments.
Replacing the existing windows in your rental property with larger and more modern ones can also lead to increased energy efficiency your tenants would thank you for.
4. Update the lighting fixtures.
Dated or boring light fixtures can bring down a room's overall look. Fortunately, replacing light fixtures is a relatively easy and inexpensive update that can make a big difference. Stick with simple and modern designs like sputnik chandeliers or exposed bulb pendant lights for an on-trend look that won't break the bank. Here are a few tips on how to choose the right type of lighting for each space:
You'll want to choose a light that can provide ambient and task lighting in the living room. Ambient lighting is used to create a general atmosphere in a space, while task lighting is used to provide focused illumination for specific tasks like reading or watching TV. A good option for the living room is a floor lamp with a flexible arm that can be directed toward whatever you're working on.
The kitchen is the place where you need both ambient and task lighting. Ambient light is necessary to create a sense of space, while task lighting is required for things like cooking and chopping. Pendant lights are an excellent option for the kitchen because they provide both types of lighting. They hang down from the ceiling and cast a soft ambient light while also providing focused task lighting for the areas directly below them.
Lastly, the bathroom is typically a small space, so it doesn't require a lot of ambient light. Instead, focus on installing task lighting fixtures like sconces or vanity lights above the mirror. These types of fixtures provide directed light that's perfect for applying makeup or shaving.
5. Hang some artwork.
Bare walls can make any space feel cold and uninviting. Consider hanging some artwork throughout your rental unit to warm things up and add some personality. Look for pieces that reflect your personal taste or the style you're going for with the space. These can be abstract canvases for a modern vibe or vintage prints for a more traditional look.
And don't be afraid to get creative with how you display them—try grouping several small pieces together or hanging one large piece above a piece of furniture. Just be sure to use the proper type of hangers and hooks to avoid damaging the walls in your rental unit.
There are plenty of ways to add a modern flair to your rental property. By painting the walls, bringing in some plants, updating the lighting fixtures, swapping out old windows, and hanging some artwork, you can give your space an instant facelift that will appeal to even the most discerning tenants. So don't wait—put these tips into action today and enjoy watching your rental property transform before your eyes.