The delivery industry is in the midst of a major upheaval. New technologies are changing how you think about everything from package tracking to last-mile delivery. As a business owner, it's important to stay on top of these trends to ensure your delivery operation is as efficient and cost-effective as possible. Here are six big ways technology is changing the delivery industry right now.
1. GPS Tracking Is Becoming Standard
In the past, businesses that wanted to track their deliveries had to install expensive and difficult-to-use GPS tracking systems. Today, there are several affordable and user-friendly GPS tracking apps available that make it easy to track your fleet in real time. This information can be used to optimize routes, reduce fuel costs, and even improve customer service by giving customers up-to-the-minute information on the status of their deliveries.
You can also integrate GPS tracking with automatic dispatching systems, making it easier to quickly assign and track deliveries. No more time wasted manually assigning drivers and calling them to check on their location.
2. Drones Are Being Tested for Commercial Use
While drones have been used for years by the military and hobbyists, they're only now starting to be used for commercial purposes like delivery. Several companies, including Amazon and UPS, are already testing drone delivery systems, and it's only a matter of time before this technology becomes mainstream.
Drones have the potential to revolutionize last-mile delivery by making it faster, cheaper, and more efficient. If your business deals with time-sensitive deliveries or hard-to-reach locations, keeping an eye on drone delivery technology's progress may be beneficial in the long run.
3. Automated Dispatching Is Streamlining Delivery Processes
Instead of manually assigning drivers and organizing routes, businesses are turning to automated dispatching systems to handle these tasks. These systems use algorithms to optimize routes and assign drivers, resulting in faster delivery times and reduced fuel costs. This technology can also integrate with GPS tracking, making managing every aspect of the delivery process easier.
When choosing a dispatching system, make sure to look for one that's customizable and can integrate with your other technology systems. No two businesses have the same delivery needs, so a one-size-fits-all solution likely won't work for you.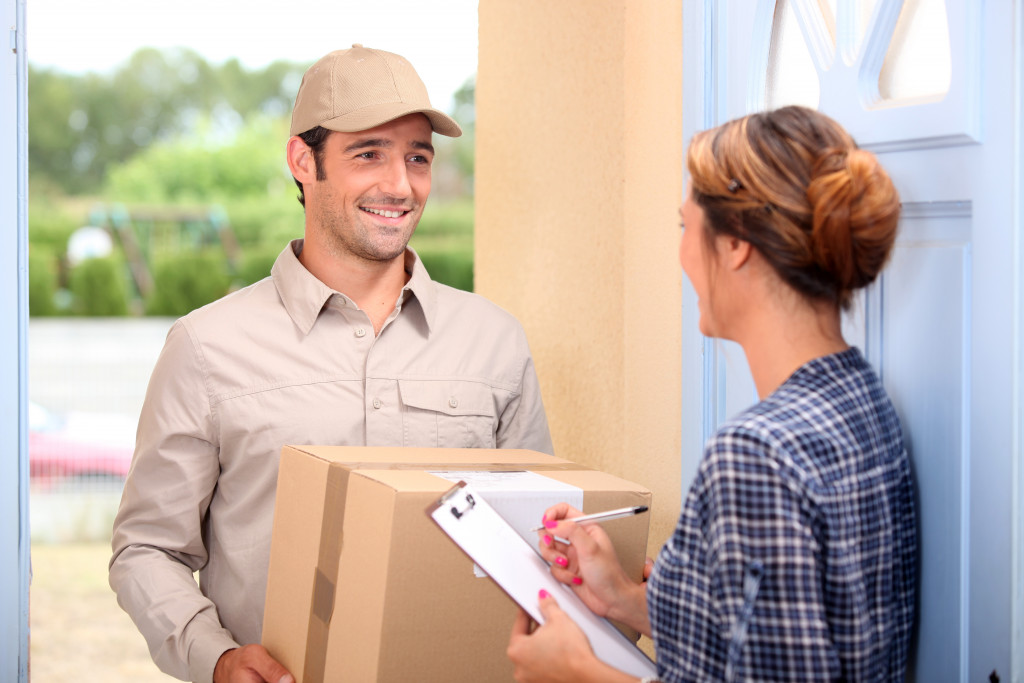 4. More Advanced Shipping Software
Technology is also changing the shipping process itself. Advanced shipping software allows businesses to compare shipping rates easily, choose the most cost-effective option, and even negotiate with shipping companies for better rates. This can result in significant savings for your business, especially if you do a high shipping volume.
These shipping software systems often integrate with inventory management systems, making it easier to keep track of shipments and inventory levels. This can help prevent overstocking or running out of products, streamlining your overall operations and saving you time and money.
5. Improved Package Lockers and Self-Service Delivery
Package lockers have been around for a while, but they're becoming more advanced and user-friendly. These lockers allow customers to pick up their packages at their convenience, reducing the need for last-mile delivery and potentially missed deliveries.
Self-service delivery options are also becoming more popular, with some stores allowing customers to pick up their online orders in-store or at self-service kiosks. This saves on delivery costs and can drive foot traffic to your physical locations. So, exploring these self-service options may be worth considering if you have a brick-and-mortar presence. No matter what delivery options your business offers, staying on top of emerging technology in the industry can help streamline processes and improve customer satisfaction.
6. Autonomous Vehicles Are Being Developed
Self-driving cars are no longer just a pipe dream—they're quickly becoming a reality. Several companies, including Google, Tesla, and Uber, are already testing autonomous vehicles on public roads, and it's expected that these vehicles will enter the commercial market within the next few years.
While it will likely be several years before autonomous vehicles are used for deliveries on a widespread basis, they have the potential to transform the delivery industry by making it safer, more efficient, and less expensive. If your business relies heavily on deliveries, keeping an eye on the progress and potential applications of autonomous vehicles is important.
Overall, technology is drastically changing the delivery industry and how businesses approach last-mile delivery. From drones to self-driving cars, many advancements can streamline your delivery processes and save your business time and money. Staying up-to-date on these technological advancements and integrating them into your operations can give you a competitive advantage in the long run. So, keep an eye on the newest technology and see how it could benefit your business. You never know what advancements may come next!