Running an automotive repair or body shop may seem highly profitable given the number of car owners seeking services for their vehicles. While there's some truth to that, there's no denying that the competition is tight too. More and more auto shops are opening every year, making it more challenging to keep customers coming back.
Customer retention is crucial for the success of any auto repair and service shop. Repeat business also helps build trust and loyalty. The challenge is, you can't earn the trust of car owners overnight. You need to consistently provide excellent service and some extra tactics to keep them hooked. Find out what they are below.
1. Offer a customer loyalty program
Loyalty programs have been found effective for improving customer retention not just in the automotive industry but also in others. This strategy is basically about rewarding repeat customers to boost their booking frequency in your shop. The more valuable rewards you provide, the more motivated they are to visit your auto shop.
In particular, you can give discounts to car owners every time they refer a family member or friend. You can also consider providing physical gifts such as badges or shirts to show loyalty to your shop. Or better yet, allow them to collect points for every visit or service they avail of on your auto shop.
2. Consider a coupon advertising
Coupon advertising is another effective method of improving customer retention in your auto shop. The best thing about this high-exposure marketing tactic is that it is low-cost. Using register tape advertising is an excellent way to maximize the reach of your auto shop coupons.
You can have your coupons appear on the back of store receipts. Choose grocery or convenience stores near your shop. Some of the offers you can put in your coupons are free oil change, discounted rate for tire rotation, half-off oil change, and a certain percentage off a particular service or on the overall bill.
You can offer these whenever customers avail of a specific service from your auto shop. Other advantages of using coupon advertising for your shop include reactivating old customers and expanding your market area.
3. Update your shop equipment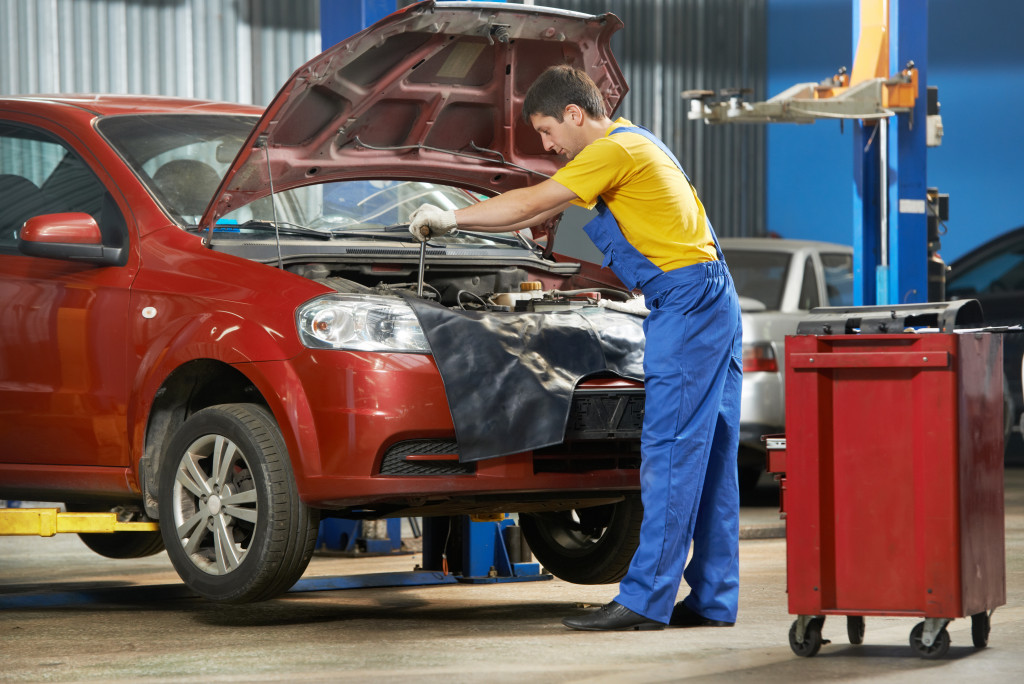 Your equipment is the lifeblood of your auto shop, which is why upgrades are necessary. New equipment acquisition should be a top priority of any automatic repair facility. This helps boost the productivity of your team and the overall performance of your auto shop. Customers would always want to visit a shop with modern auto servicing equipment.
Lifts, for instance, are crucial for services related to adjustments and inspections. Invest in a durable mobile lifting system for vehicles that can improve your shop operations and make your team's work more efficient. Find mobile vehicle lifts that are flexible and can safely handle your needed weight distribution application.
Besides lifts, other major equipment to update or regularly inspect are the tire changers. Take note, though, that not all changers can be upgraded. Check with the manufactures to know if there are available special upgrade adapters for your current equipment. Other machines and tools to look into are your shop's leak detection devices, floor jacks, and A/C equipment.
4. Introduce digital car inspections
A digital car inspection is a convenient way to accommodate your customers' needs. For this, you'll need to invest in a piece of software for your auto technicians to perform the inspections remotely. The tool enables your team to communicate with the customers and discuss the problems with their vehicles. You can attach or exchange photos and videos of the car for the inspections. This provides your customers the convenience of not having to drive to your shop to get their car check.
Auto shop owners who used digital vehicle inspections could establish trust, become an industry standard, and operate more efficiently. Plus, people with busy schedules will love your auto shop as you can keep tabs on their cars without scheduling a physical visit.
As for you, you get to also save money and time from your physical operations. Using such shop management systems can make your repair order processing much faster and free from human error. Invest in a tool that your car technicians can easily learn and use for the inspections.
Earning the trust of customers is never an easy job for an auto service business. Not only that you have to keep your auto shop equipped and updated, but you also need to focus on establishing a strong relationship with your customers. Start with our strategies here to improve your customer service efforts.