Selling a house is no small feat. It requires organization, attention to detail, and patience. But what if you don't have the luxury of time? Most home sellers are looking to sell their homes quickly for various reasons.
Some may need to relocate quickly for a job, while others hope to take advantage of an excellent real estate market. Whatever the reason, there are some steps you can take to speed up the process. Here are a few tips for selling your home fast and making a smooth transaction.
Set The Right Price
Setting the right price when selling a house is crucial in quickly getting your home off the market. Too low, and you could leave money on the table; too high, and it can scare off prospective buyers. You should research to assess prices for similar homes in your area that have recently been sold or are currently for sale.
Online tools such as Zillow's Home Value Estimator or a real estate agent can help you get an accurate picture of your home's worth. Remember that there are financial implications to consider, so pricing your home requires careful analysis and professional guidance if necessary. With the right price set, you can rest assured that you're well on your way to selling your house quickly!
Focus On Curb Appeal
You want potential buyers to be wowed by your home from the moment they pull up outside. If you want your house to stand out, focus on improving its curb appeal with new landscaping or a fresh coat of paint. Enhancing your home's aesthetic can have a significant impact on how attractive it appears to potential buyers or renters.
For example, ensuring that the exterior of your property is well-maintained with fresh paint and tidied landscaping can give off the impression that you care about its upkeep. In addition, introducing a few pops of color, such as gardening pots or window shutters, can make the property instantly stand out and become more inviting. These simple steps to upgrade your home's curb appeal can save you significant time and money while achieving outstanding results.
Invest in Home Improvements
Investing in home improvements is an excellent way to make your home more desirable to potential buyers and increase the chances of it selling quickly. You don't need to break the bank – upgrades like fresh coats of paint and new flooring, landscape maintenance, or even a few intelligent staging upgrades can be enough to make a positive impression.
But if your house contains significant damages, such as a damaged roof, it's essential to address these issues first to ensure the property is as safe and functional as possible. Find a trusted asphalt shingle roofing contractor that can repair any leaks or damage and have the job done in time for when buyers come to take a tour. While there are many factors to consider when selling your home, don't forget the power of creating a great impression – it could be just what you need to get your house off the market quickly.
Stage Your Home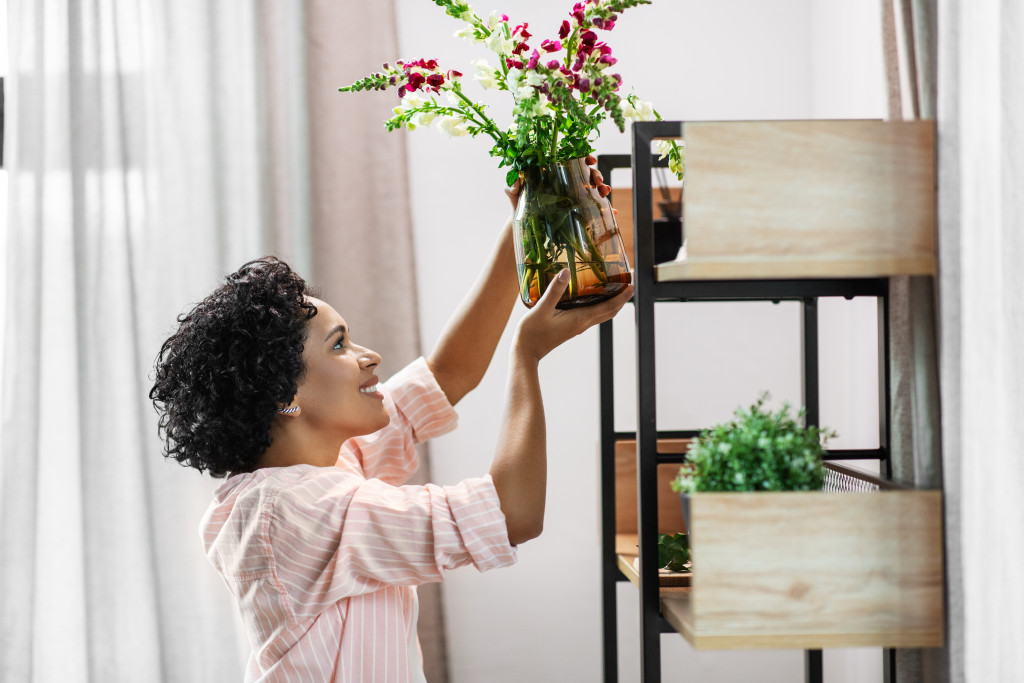 Staging your home is a great way to help it stand out and larger buyers quickly. Setting up a property to be inviting and move-in ready can go a long way in helping it to look more attractive as compared to others on the market. A staged home is typically more desirable because it makes viewers picture themselves living there – a key indicator for purchasing.
Home staging involves paying attention to details such as furniture, interior design, deepening of walls, and bringing in additional accessories like pillows or decor. By doing this, potential buyers will easily be able to imagine what the home could look like if they were living there. Staging your home can take just a few days — but end up getting you sold in no time!
Hire A Professional Agent
Having a professional real estate agent on your side can make the process of selling your home much easier. With their knowledge of local market conditions and their familiarity with current trends, an experienced agent will be able to provide valuable insights that could make all the difference.
They also serve as a liaison between potential buyers, ensuring that everyone involved has up-to-date information regarding the condition of the property. Working with an experienced real estate professional is bound to give you an edge when trying to sell your house quickly.
Final Thoughts
Selling your home fast isn't impossible—it just takes some extra effort. By setting the right price, boosting curb appeal, and staging each room strategically, you can help ensure that your home stands out from the competition and finds its new owner quickly! With these simple steps, you can be one step closer to getting that much-needed cash infusion from selling your house fast! Good luck!