If you're from the Philippines, you've most likely heard of the famous Facebook group called "Home Buddies." From its birth in September 2020, Home Buddies is now a large online community with over 2 million members. Its founder, Frances Lim Cabatuanado, started Home Buddies as an Instagram page, where she posted photos of her new condominium, showing off the progress of its interior design and decor. Later, she created a private Facebook group for the page, and from there, it grew into the well-loved, go-to social media page we know today.
From people proudly sharing their first affordable house and lot to design and construction professionals sharing home maintenance tips, Home Buddies is full of useful information about home improvement, buying, and building. In fact, it is so helpful that it's now unofficially dubbed as the "Filipino Pinterest." Because its members share realistic household problems and solutions, Filipinos found inspiration from the group.
Not only that, but they also discovered amazing household products, thanks to the kapitbahays (the official term for the group members), who shared their testimonials with the group. The other kapitbahays call these shopping finds "budol" items since it persuades them to spend money. Funnily enough, "budol" originally means swindling someone for money. Now, it's Filipino slang for ordering products online.
That said, if you're not a member of Home Buddies yet, here are the best household products kapitbahays may recommend for you:
1. Wireless Vacuum Cleaner
Since Dyson vacuum cleaners aren't within the average Filipino's budget, kapitbahays found a cheaper alternative. They're usually low-cost Asian brands but with similar designs and functions as the coveted Dyson machines. The Deerma VC20 vacuum cleaner, in particular, won favor from the community, with a marketing analyst member commenting that it's one of his best buys because of its stellar quality and relatively heavy built.
2. DIY Wall Mirrors
Interestingly, wall mirrors became a huge hit, not for vanity reasons but space matters. Since many Filipinos live in small homes, they craved wider, brighter, and airier spaces. And wall mirrors gave them those illusions.
3. Inverter Air Conditioner
Though summer technically doesn't exist in the Philippines, we get hot and humid months, starting in March and ending in June or July. Hence, an A/C is a must-have for every Filipino home.
Inverter air conditioners earned fame due to their energy efficiency. Though they're significantly pricier than non-inverter units, they're more powerful. The window-type unit typically possesses a cooling capacity of 9.640 kJ/hour, whereas the same non-inverter unit only has 9,360 kJ/hour. As for the wattage, the non-inverter has 950, while the inverter just 850.
As a result, an inverter A/C can run for several hours a day and leave a small impact on your electricity bill. It won't miraculously cut down your utility expenses, though, so kapitbahays don't advise running your inverter A/C all day.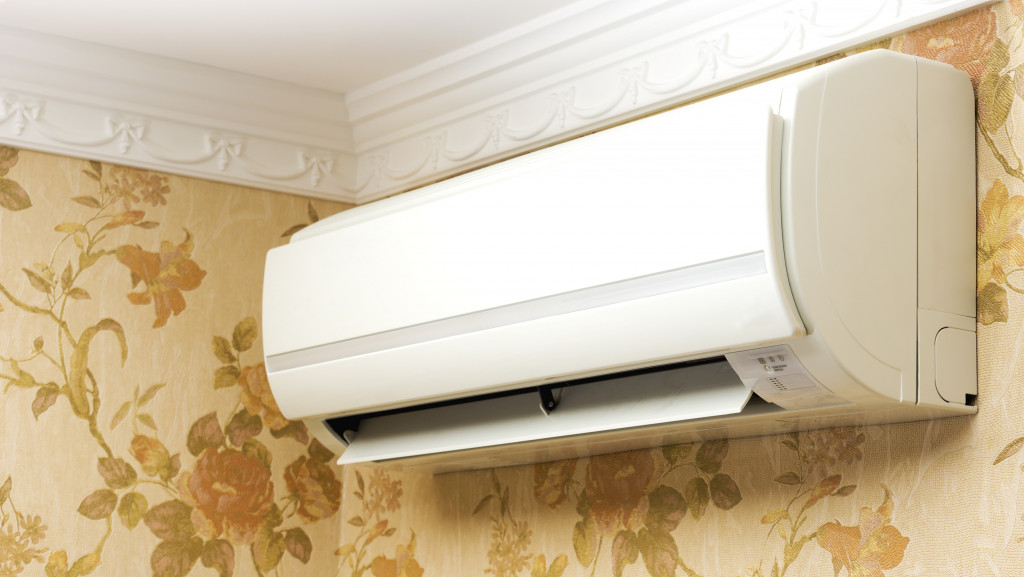 4. Foldable Bathtub
Wellness professionals and fans heavily promoted self-care during the pandemic. But typical Filipino bathrooms don't have a bathtub, so kapitbahays found a hack: a foldable bathtub!
The product is lightweight and portable, so you can use it outside the bathroom if there's no more room inside and store it in a cabinet afterward. Its length and depth are similar to those of a regular bathtub, so you'd barely feel the difference as you soak in it.
5. Portable Steam Iron
To avoid wearing wrinkly clothes for your Zoom meetings, kapitbahays discovered an inexpensive steam iron. It has a fast-heating water tank, so you can use it a few minutes before your meeting starts. No more setting up an ironing board. Just plug in the steam iron, hang your clothing on a rack, and watch the wrinkles and creases go away with every stroke of the steam iron.
6. Custom-built Furniture
On the group, you'd often see kapitbahays sharing their room makeover or home renovation photos. They also showcase some small home improvements, like the addition of a reading nook, pet house, or gallery wall. They captioned the post with the sources of their furniture, which are usually custom-built.
Kapitbahays share such posts to inspire the community and tell them that home improvement doesn't break the bank. And thanks to their posts, architects, engineers, and interior designers can give their two cents about budget-friendly home makeovers.
7. Bath Soap (Air Freshener Alternative)
If you're a kapitbahay, you've probably noticed the Home Buddies community raving about the imported bath soap brand "Irish Spring." They tie the soap and hang it from the vent of their A/C. Apparently, Irish Spring makes a great air freshener, as well as a deodorizer for closets and shoes. It can even act as a garden pesticide; just stuff the soap in a mesh pouch, place it in the pest-prone area of your garden, and the little critters will be gone.
Home Buddies may feel like a persistent salesperson at times, but it's also a source of comfort, inspiration, and laughs for many Filipinos. It's a unique way to forge a bond between strangers, making social media a better place for us.