Specializing in pediatrics allows you to provide comprehensive care for infants, children, and adolescents. As with any specialty, some challenges can come with pediatrics. One of them is letting parents and guardians know about your services. With so many options available, it can be difficult to stand out from the crowd. However, you can take some simple steps to raise awareness of your pediatric practice. Here are six tips for marketing your clinic to parents and guardians:
Get Involved in the Community 
One of the best ways to market your clinic to parents and guardians is by getting involved in the community. It's an excellent opportunity to meet local families and form personal connections with them. You can build better rapport and trust with potential clients through these interactions. Likewise, community involvement might mean sponsoring a local sports team, donating to a school fundraiser, or hosting a free health fair at your clinic. By getting involved in the community, you're showing parents and guardians that you care about their children and want to help them lead healthy lives.
Advertise in Local Parenting Magazines 
Another great way to market your clinic to parents and guardians is by advertising in local parenting magazines. Parents, especially new ones, can go online for resources, advice, and ideas about managing their household. So platforms that also cater to their demographic are ideal for marketing your clinic. You can run ads in local parenting magazines or online directories that list family-friendly businesses in the area. You can also offer discounts or freebies in your ads to attract attention and encourage parents to give your clinic a try.
Host Informational Events at Your Clinic 
Parents and guardians are always looking for information on how to keep their children healthy. By hosting informational events at your clinic, you can provide them with the resources they need while also marketing your clinic. For example, you could host a "childhood immunizations" event where you provide information on the importance of vaccines and offer vaccinations for kids who attend. Or, you can host a "back-to-school physicals" event to help families prepare their kids for the new school year. By hosting informational events, you can show parents and guardians you're a reliable source of information and committed to providing the best care for their children.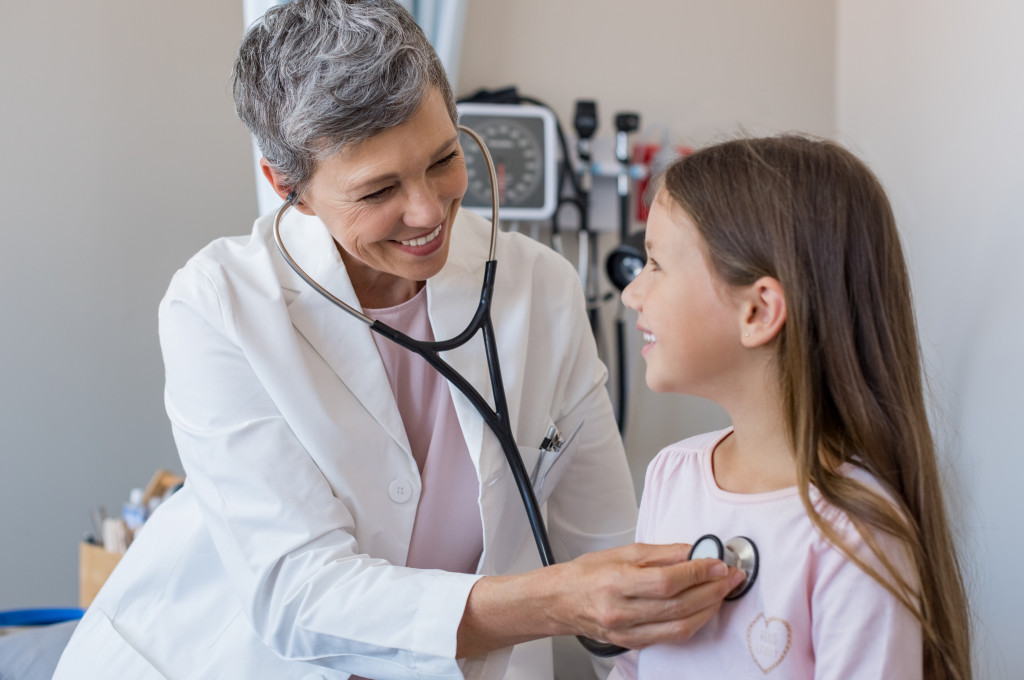 Provide Accurate Content on Your Website 
It's important to have a website that parents can visit to learn more about your practice. An effective website will let parents know what services you offer, your office hours, and how to contact you. It should also include information about your credentials, experience, and other information that makes your clinic unique. For example, suppose you're in dentistry. In that case, your website can also share how you make the children's visit to your office more comfortable. This is essential because some, if not most, children are often reluctant to visit the dentist. That's why you can use your online platform to show parents that you can be trusted to provide for their child's dental needs. Alongside information, your web pages should also have calls to action. So you can encourage parents to visit a local pediatric dentist who can help them ensure their child's oral health. By taking the time to create a well-organized website, you can reach more parents and let them know about the high-quality care you provide.
Use Social Media
Social media is a powerful marketing tool. By creating and maintaining a presence on popular platforms such as Facebook, Twitter, and Instagram, clinics can reach a wider audience and build brand awareness. Furthermore, you can use social media to promote special offers, events, and connect with potential patients who may be interested in the services offered by the clinic. To maximize the marketing potential of social media, you should regularly post engaging content relevant to your target audience. For example, you can share articles or studies on childhood development, health tips, and safety information. You can also use social media to answer questions from parents, showcase patient testimonials, and highlight your clinic's awards and recognition. Doing so will let you develop a strong online presence and reach new patients.
Offer Discounts for New Patients
One way to market your clinic to parents and guardians is by offering discounts for new patients. This could include a percentage off the first visit, free services for referrals, or discounts on products sold at your clinic, such as over-the-counter medications or vitamins. By offering these discounts, you'll be able to attract new patients while also saving money on marketing costs. 
Taking a proactive marketing approach can ensure that more parents and guardians are aware of the pediatric services you offer. This allows you to better serve the needs of your community and provide quality care for their children.