Wider vaccinations and declining COVID-19 cases are making a safe return to the workplace a bigger possibility nowadays. However, when preparing to have employees come back to work, expect that their expectations for what a workplace should look like have changed. In simpler terms, work life will never be the same because of the COVID-19 pandemic.
Firstly, people are more concerned about sanitary practices, especially in shared public spaces.  The many months of remote work have also necessitated some adjustments to the layout and equipment in your office space.
As your organization prepares to welcome workers back into your physical space, you face the challenge of reimagining the workplace, given the effects of the pandemic. These are some aspects you must pay attention to build a healthy and productive workplace for everyone.
Restructuring Your Physical Space Is Important
The most apparent way that your office needs updating is how to make your physical workplace conducive to productivity amidst virus concerns. Here is how to make it happen.
1. Do not skip the aesthetic improvements.
Decorations are often an afterthought, but they should not be because they serve a larger purpose than just making a place look pretty. Aesthetic additions make your office look more professional and provide a better working environment for employees.
A principle to follow is to bring the outside in. Introduce more natural light by having bigger windows and even opening them to improve air circulation. Biophilic touches also help employees, such as having more indoor plants and "natural" elements, from wood to an open floor plan matched with good ventilation.
Little touches matter, too. Personalized decorations assert your organization's brand identity. Place a stone address marker outside your office building, or even have your logo installed in your office premises to visually reflect your organization's core values.
2. Improve workplace ventilation.
While opening windows and just allowing more outside air into the office is good, it also pays to improve the ventilation systems in the whole office space.
Inspect your existing HVAC system and repair, upgrade, or even replace what you need to. Make sure that you also have properly sized air filters to clean the air efficiently.
Indoor fans also improve airflow in the office but make sure they are installed in the correct locations and used at the right speed. These factors are important for fans to allow good circulation rather than be a potential agent to spread the virus.
3. Take a contactless approach.
There have already been many reports that mention the low likelihood of virus spread via surfaces. Despite these, people will remain conscious of the sanitation of the surfaces they touch in the office. Allay these existing concerns by minimizing touchpoints.
Sensor-activated technologies are beneficial for the return of employees. Useful applications for these in the workplace are your faucets, doors, elevators, and even light fixtures.
Prioritizing Your Employees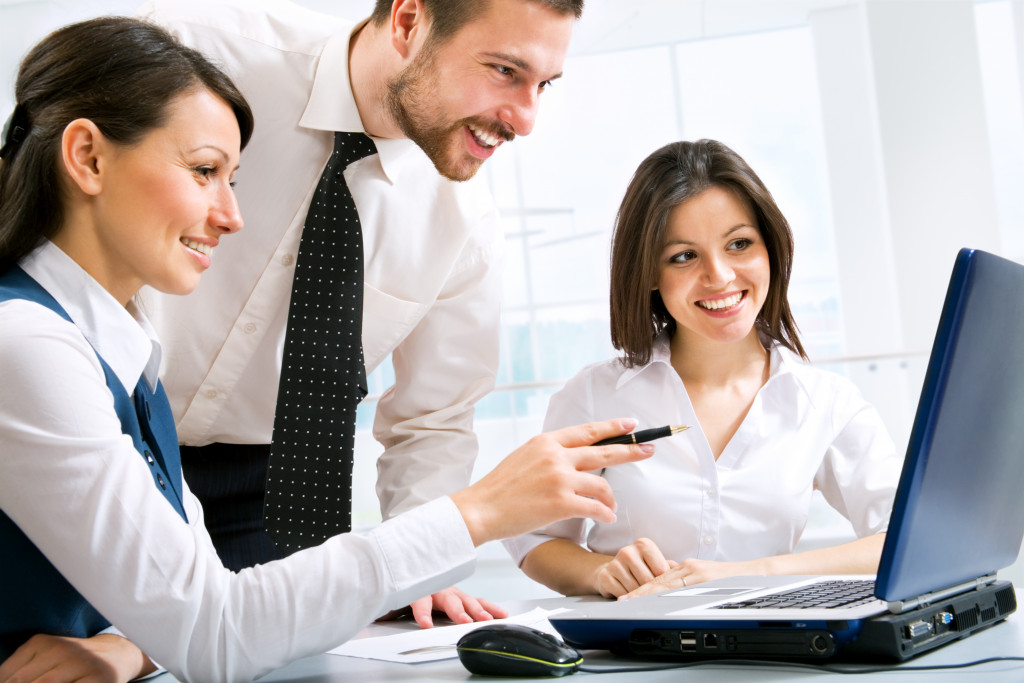 The well-being of your employees remains the most important aspect of returning to a "good" workplace. These are steps to take to truly prioritize them.
1. Be upfront about the company's needs.
Returning to the workplace means reassessing how your employees should work and what kind of output you require of them. Your honesty about these aspects helps build trust with your team and makes it easier to create solutions that put both the organization's and the workers' best interests at the forefront.
2. Have a conversation with your employees.
You cannot create an effective strategy to lead your company to recovery from the pandemic if you do not include your employees in the conversation. Open the floor for suggestions from the team since they will be most affected by the policy adjustments in the office.
Take the time to listen to their concerns, too. Allow them to voice their concerns about returning to work, staying in a remote setup, or going hybrid. Listening makes your workplace more inclusive and productive.
3. Make compassionate leadership a standard.
Remember that every person involved in your organization goes through their own experiences and issues with the pandemic. Some could still be grieving the loss of a family member due to the virus. Others could be struggling with mental illness, aggravated by the isolation of the pandemic.
Considering the personal concerns that every employee is bringing to the workplace, lead your team with compassion. Check on them, offer assistance where appropriate, and be vocal about gratitude. Finding the balance between leading firmly and meeting your employees with kindness helps the whole team adjust and evolve through these unpredictable times.