As a real estate investor, you know that curb appeal is essential. First impressions matter, and that's especially true when it comes to real estate. Not only does it boost the value of your investment, but it can also make your property more inviting. If your house doesn't look good from the street, potential clients may not even bother coming in for a tour.
That's why ensuring your property has excellent curb appeal is crucial. Fortunately, there are plenty of ways to work in this department without breaking the bank. Here are some tips for how to do it.
Start with the front door.
The front door is the first thing potential buyers will see when they approach your property, so it's essential to ensure it looks nice.
If your front door looks a little shabby, consider giving it a fresh coat of paint. It is one of the quickest and easiest ways to give your property a facelift. By choosing a color that compliments your home's exterior and maintaining the paint job, you can be confident that it always looks fresh. You can also add some new hardware, like a nice knocker or a new doorknob.
These small changes can make a big difference in the overall look of your property. So, start with the front door when you're trying to give your place a curb appeal makeover. It's one of the essential curb appeal investments you can make.
Spruce up your landscaping.
Landscaping is another important element of curb appeal. This element can take some time to get right, but it's worth the effort.
A lawn that is patchy or full of weeds needs some TLC. Invest in some quality grass seed, trim any overgrown shrubs and bushes, and add some color by planting flowers or shrubs around the perimeter of your property. Just be sure to choose appropriate plants for your climate and soil type. It's best to stick with low-maintenance plants, so you don't have to spend much time (or money) keeping them looking nice.
If you have a green thumb, you can do this yourself. If not, you may need to hire a professional. Nonetheless, this simple trick can make a difference in curb appeal.
Pressure wash the exterior of your property.
Over time, dirt and grime will build up outside your home. Pressure washing can remove that buildup and make your home look new again. Plus, it's a relatively inexpensive way to boost curb appeal. 
Does your home's siding or brick look dingy? An excellent pressure wash is a quick and easy way to give it new life. If you don't have one, you can usually rent a pressure washer from your local home improvement store for less than $100 per day. However, follow the manufacturer's instructions carefully, so you don't damage your property while cleaning it.
With an extra effort of pressure washing, you can take your property from dull to dazzling. As a result, you can enjoy higher curb appeal—and resale value.
Create an inviting entryway.
The entrance to your home should be welcoming and inviting. And one way to achieve this is by resurfacing your driveway.
For many homes, the driveway is one of the first things people see when they arrive. If it's cracked or stained, it can give your property an unkempt look. However, resurfacing your driveway is a quick and easy way to spruce up its appearance.
There are plenty of ways to do this, but one of the most popular methods is to use an asphalt sealer. Professional driveway pavers can quickly do this method, which doesn't require much time. It's a relatively inexpensive way to achieve a brand-new look for your driveway. Another option is to replace your driveway entirely. This method is more expensive but can be worth the investment if your driveway is in bad shape.
Whatever option you choose, be sure to maintain your driveway regularly. Keeping it clean and free of cracks can prevent future damage and keep it looking its best.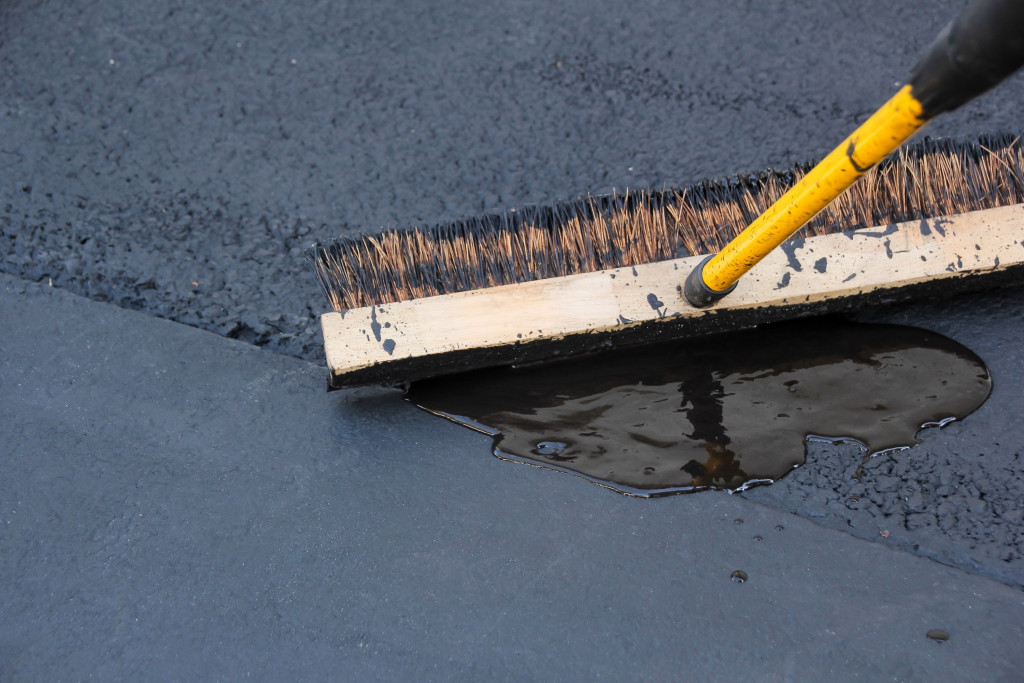 Clean up any clutter around the outside of your home.
Clutter can make even the nicest property look unkempt and unwelcome. So take some time to clear away any toys, bikes, or lawn equipment cluttering your yard.
You should also ensure all trash cans are out of sight and that any exposed wires or cords are neatly tucked away. A bit of decluttering can go a long way in terms of boosting curb appeal. By taking the time to clear away the clutter, you can make your home look more inviting and presentable.
Boosting your home's curb appeal doesn't have to be daunting; a few small changes can go a long way. By following the tips above, you can make your home more attractive to potential buyers—and increase its value in the process. So, what are you waiting for? Get out there and start sprucing up your property today.