Special events management is an industry that has grown enormously in the past years. According to research by Dr. Joe Goldblatt, CSEP, special events is a $500 billion industry, annually. A big chunk of this goes to the event venues.
If you have real estate property and thinking of turning it into an income-generating asset, consider NOT building the typical high-rise or brick and mortar structure this time. With likely less capital expenditure but nonetheless significant earning potential, a special events venue might be a better idea, instead.
Aside from being a revenue source, an events venue is the main backdrop to someone's memorable milestone.
What You Need to Build a Special Events Venue
Logistics and Paperwork. Assuming you already have the location, the first professionals you'll need to consult with are the engineers and architects. Determine utilities like power supply and distribution, water lines, property layout, HVAC requirements, and potential outdoor space. Examine your property's accessibility and guest parking.
As you begin the project, devote ample time to understanding all the legal requirements for running an events venue. Get to know all the regulations set by your municipality in terms of insurance, necessary permits, ordinances (such as sound ordinance), and guidelines.
A Blank Canvas. Unless you're planning on opening a themed venue, it is ideal to minimize (or even disregard) your own decor. Resist from bringing too much of your style ideas into the venue so your clients will not feel limited by what you already have. Such a limitation might even cost you clients. Keep your event venue neutral and "open" to transformation for every event.
Bold hues can clash with clients' planned color palette. Consider hiring professional garden designers to set up a well-manicured lawn that's suitable for any event style, whether elegant, formal, upbeat, or fun.
Promotion and Launch. Spread the word to industry players and event vendors by way of social media, print media, or even holding an "open house" event of your own. You may hold a trade fair showcasing various event suppliers open to the public — people who will be planning events and will potentially keep you in mind.
After you open your doors and start accepting business, remember that all photos and social media posting of all of the events will be free advertising for your venue.
Maximizing Your Events Venue Business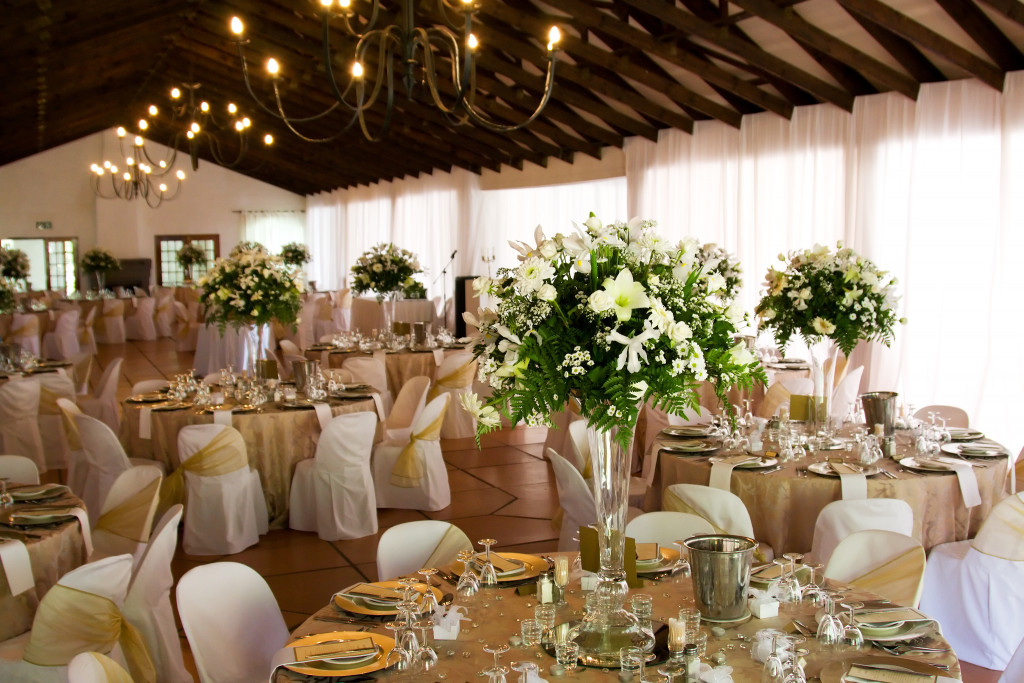 Adding Amenities. You may consider adding IT and AV equipment for all types of events in your "menu" of services. Think: projectors, flat-screen TV's, sound mixers, stage lights, etc. Added features and/or decor that your clients can rent are great ways to supplement your venue packages.
Event Styling. You may want to hire an in-house event stylist who can spin your clients' ideas into a real vision or refine their vision to the next level. An event stylist's responsibilities include, after designing the event on the drawing board, the actual selection of lights, table settings flowers, etc. The stylist can be a value-add to the venue package, or as an add-on service a client may opt for.
Event Planning. Similarly, hire someone who will serve as the overall coordinator of the event, responsible for every event detail from start to finish. The planner handles the planning, negotiation and coordination with the various vendors, managing the budget, and overseeing the flow of the actual event. It would be ideal to get someone with a degree or certification in event planning or management. Refer to Meeting Professionals International (MPI) for a list of universities that offer these programs. The event planner on staff could be a value-add or a for-a-fee option.
Having a CSEP (Certified Special Events Professional) or CMP (Certified Meeting Planner) on staff may impress potential clients who might want to see credentials and experience. After all, this is the person who will direct their event.
Food Catering. Events will almost always involve food. Expand your events venue business by having a well-staffed kitchen, including a schooled chef. This way, your clients need not look elsewhere for a food provider. This added convenience for the client means more income for you. Down the line, you may also think about opening a part of your venue as a restaurant that will operate every day. This ensures continuity in income, even during lean seasons.
Mainly, there are two markets for event services: corporate and social. Apart from the usual weddings, reunions, family celebrations, you could target companies, charities, and nonprofit organizations that host fundraisers, receptions, launches, competitions, among others. Start locally and build up your experience and portfolio.