A fully furnished condominium unit or apartment is such a convenience for potential tenants. For one, not everyone has the eye or the budget for good interior design and decor. For another, all they would need to do now is to move in with their belongings, and presto—they're set to relax in their new home.
If you are thinking of renting out a fully furnished condominium unit, here are some pointers you need to know to design it in a way that tenants would fall for.
Make it a blank canvas
Providing your future tenants with some form of control will help them see the unit through their own lens and style. It will help them visualize what the place will look like once they move in and incorporate their own style and color into the unit. Here are some decorating tips for you to do that:
Go minimal in your choices. This means that you don't need to go for the avant-garde statement couches and chairs, and you can avoid colorful furnishings. Avoid overdoing your furniture pieces and appliances because you will only be running the risk of overpricing your rental and having it be too cluttered. They also make the unit look much bigger and brighter.
Go easy with the color choices, especially with the walls. The safest choice is neutral color palettes that are easy on the eyes, like white, gray, beige, earth tones, and other muted colors. Avoid incorporating too many artworks and leave space for tenants to bring in their own pictures and decorative elements.
Furnish the basics
While there's no one-size-fits-all for or specific rules on what a furnished rental should include, it should at least have the following basics:
Living room
The first living room basic that you need to consider is the couch because it's key to setting the tone and atmosphere of the room. Take into consideration how big the room is because you can't very well have a sectional sofa if your space is limited.
The coffee table is your next priority because this is where tenants will have coffee or tea in the morning and where they can rest their feet after a long day.
The media stand is what will hold whatever media console you go for.
Side tables are essential for holding living room items like remote controls and keys.
Add at least one simple accent chair as a complement to your couch. It will add a touch of coziness to the living room.
Some optional items include area rugs, overhead lighting, table lamps, throw pillows, coffee table books, decor accents, throws or blankets, curtains, curtain rods, and sound systems—but these are optional for a reason. Let your tenants incorporate these decorative elements on their own to make the rental feel like home.
Bedroom
A good, layered, and comfy bed, which is the centerpiece of the room. Choose one without a headboard so that your tenants can add their own later on.
A nightstand will help your tenants envision what kind of decorative elements they can add to make the room feel like their own.
One big storage or dresser in addition to whatever closet is already available.
An accent chair in the corner of the room to add more function to the bedroom.
Kitchen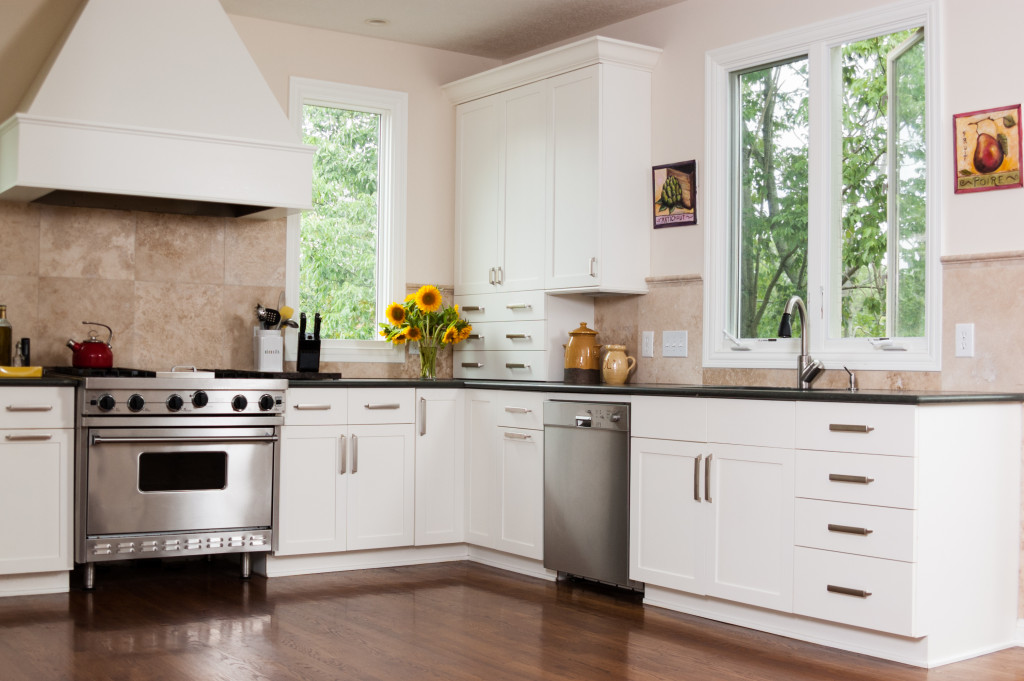 Here are the major appliances every kitchen needs:
Refrigerator
Cooktop
Dishwasher
Electric and gas ranges
Microwave oven
Range vent and hood
If there's enough space in the unit and if the building allows, consider incorporating a built-in island. It will be perfect for tenants with kids looks especially good in an open space floor plan.
Laundry room
Here are some laundry room appliances that can add value to your rental property:
Washing machine
Dryer
Drying rack
Iron
Ironing board
Sink
If the laundry room can also double as a mudroom, consider adding some shelves and a bench where people can take off their shoes immediately before entering the unit.
Bathrooms
A toilet, a sink with a mirror, and a showerhead are obviously the basics, but adding in a tub can earn you some brownie points, too. Make sure to go easy on the designs, and remember that every inch of the home, including the bathrooms, should be a blank canvas.
Why offer fully furnished?
When the unit comes fully furnished, you can charge more for rent, and tenants will also most likely be willing to pay more for the convenience. Investing in real estate is all about improving any property's value, and purchasing a condo unit and renting it out equipped with all the basics can help you maximize the profit.