As a property manager, you know that first impressions are important. When potential tenants walk through your property, you want them to see a clean and well-maintained space they can imagine making their own. A prepared, clean, and tidy property is more likely to rent quickly and for a higher price than a not-as-well-cared-for property.
It will be much harder to pique their interest if the property is dirty, cluttered, or in disrepair. As a property manager, it's your job to ensure the properties you are responsible for are always clean, tidy, and in good repair. Not only will this make it easier to find tenants or buyers, but it will also help you keep the ones you have.
To ensure that your property is prepared, clean and tidy for potential tenants, there are a few things you can do:
Hire a Professional Cleaning Service
Hire a professional cleaning service to give the property a deep clean before showings start. This will ensure that the property is sparkling and ready for potential tenants to see. Focus on areas often overlooked, such as light fixtures and door handles. Ensure that the oven and refrigerator are wiped down and any windows are cleaned.
Busy Bee Cleaning Company is an experienced and reliable cleaning service that can do the job right and ensure your property looks its best. They will ensure that your property is sparkling clean and ready for potential tenants. You can also hire them for regular maintenance cleaning, so your property stays presentable all year round.
Make the Necessary Touch-Ups
Make any necessary repairs or touch-ups before showing the property. This could include fixing any loose door handles, patching holes in walls, or replacing light bulbs. Be sure you don't overlook any potential issues that may arise, as it's easier to fix them before the tenants arrive. Also, anticipating potential problems will help you avoid dealing with them in the future. For instance, if you see a broken window, it's much better to replace it now than risk an accident and end up having to fix it later. Another risky area to look for is the electrical wiring. Faulty wiring can pose a safety hazard and should be addressed immediately.
Finally, ensure all the appliances are in good working order, and the property has necessary amenities such as hot water and internet access. You may see small problems now as minor, but they could become bigger issues in the future. By taking care of these small details, you'll signal to potential tenants that you take pride in your property and that it is well-maintained.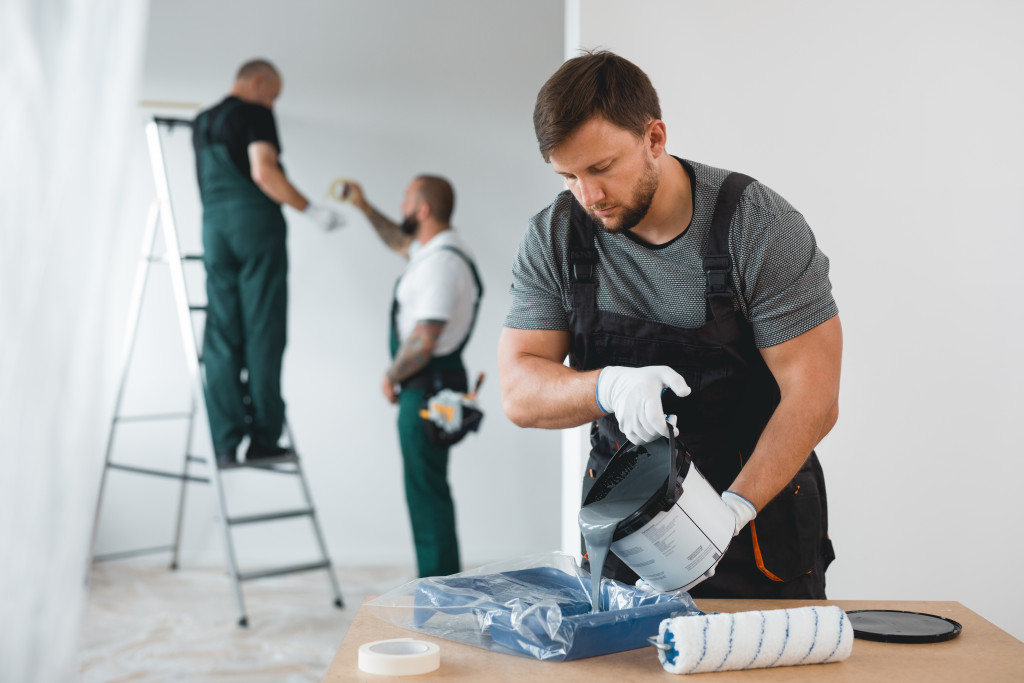 Declutter and Organize
Before showings:
Give the property a good decluttering to make it look neat and organized.
Throw out any garbage or clutter that has accumulated over the months.
Put away any excess items that may be lying around the house, such as clothing or toys.
Check closets, drawers, and other storage areas to ensure they're neat and organized.
To keep things organized, invest in storage bins and shelves that can store items. This will help ensure that the property looks neat for showings and helps make a good first impression. It will also leave an impression that the property has the potential to be a comfortable and organized living. Lastly, add a few decorations or furniture that could brighten up the space and make it warm and inviting.
Stage the Property
Stage the property in a way that is inviting and pleasing to the eye. This could involve placing certain pieces of furniture in strategic locations, hanging artwork on the walls, or setting out area rugs and throwing pillows. Staging will make potential tenants feel like they could picture themselves living in the space. If the property is situated in an area with a great view, draw attention to it by setting up some outdoor furniture or lighting.
If you think it still needs something extra, you could bring in a few plants to give it that added touch. If you find that the property needs a little extra something, you can always rent furniture from a staging company to give the space that finished look. Just be sure that everything you put in represents the look and feel you want the potential tenants to have, not just for decorating.
Staging should make the property feel like home and create a cozy atmosphere. When potential tenants walk in, they should be able to imagine themselves living there comfortably and happily. Remember that first impression are what people remember most when looking for a new home.
A prepared, clean, and tidy property is important in property management because it makes a good first impression on potential tenants. Hiring a professional cleaning service, making repairs and touch-ups, and staging the property can increase the chances of renting your property quickly and for a higher price.