Are you looking to add value to your home before putting it on the market? Certain home additions will do the trick if you're flipping a house or just want to add value for future resale. These additions will increase your home's curb appeal and make it more attractive to potential buyers. Keep reading to learn about the best home additions when flipping a house.
1. A Deck or Patio
A deck or patio is one of the best home additions you can build when flipping a house. This is a great way to create more outdoor living space and extend your home's square footage. Building a deck or patio can pay off when it's time to sell if you have the space. Make sure to create a high-quality deck or patio that is up to code. This will help you avoid any issues down the road.
Most patios or decks should take about a week to complete. You can hire a professional contractor or do it yourself if you feel up to the challenge. Always remember to get the proper permits and check with your local building codes.
2. A Sunroom
More people are turning to sunrooms for their added value and versatility. Sunrooms are great for those looking to add a little extra living space without building an entire room. Not only will it add a lovely aesthetic to your home, but you can also use the space year-round. You can enjoy summer in the sunroom and use it during winter for additional living space.
Because this is a separate room to build, you should work with a professional sunroom designer. They can help you create a space tailored to your needs and budget. Ask them to create designs that will work with the style of your home. This will help the sunroom blend in and look like it was always a part of your house.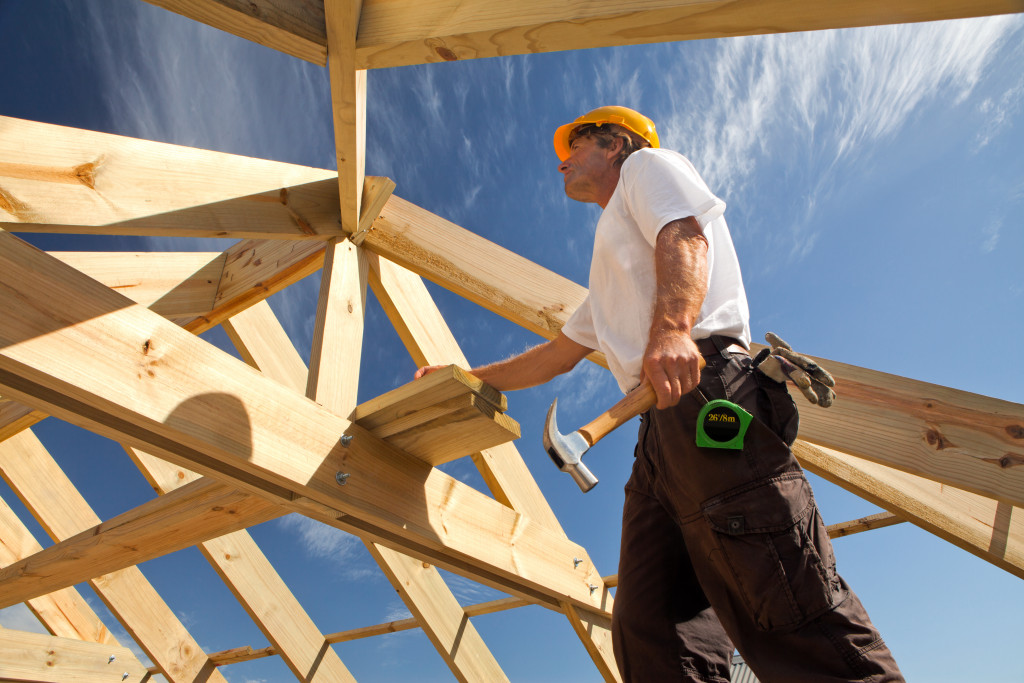 3. A New Roof
Another great home addition to consider when flipping a house is a new roof. If your roof is old or in disrepair, installing a new roof is a great way to add value to your home. Not only will this improve your home's curb appeal, but it will also make it more energy efficient. This is a win-win for both you and potential buyers.
Different roofing materials will have different costs, so consult a professional before making your decision. They can help you choose a roof that complements the style of your home and fits your budget. Metal and tile roofs are good options for adding value to your home, but make sure to weigh all your options before making a final decision. You should also factor in the cost of labor when budgeting for your new roof.
4. Energy-Efficient Windows
Energy-efficient windows can help improve your home's insulation and make it more comfortable year-round. They can also help reduce your energy bills, which every homeowner is interested in. Many potential buyers are also looking for homes with energy-efficient features, so this is a great addition to consider when flipping a house.
Double-paned windows are the best options for energy efficiency. These windows will help keep heat inside during the winter months and keep your home cooler during the summer months. You can also choose from materials like wood, vinyl, and aluminum for your windows.
5. Hardwood Floors
If your home has old carpeting or dated flooring, installing hardwood floors is a great way to update it and add value. Hardwood floors are timeless and classic, so they never go out of style. They are also easy to maintain, which many buyers want in a new home purchase. If you have a limited budget, you can opt for laminate flooring or vinyl plank options. These materials look like real wood but are more cost-effective.
Consider all your options when it comes to hardwood flooring. Engineered wood is a great option for those with children or pets, as it is more durable than traditional hardwood flooring. You can also opt for solid hardwood or bamboo floors if you want to add extra value to your home.
These are just a few of the best home additions you can build when flipping a house. By making these wise investments, you can add significant value to your property and maximize your profits when it comes time to sell. And who knows, maybe it will even help you find your dream buyer faster than you thought possible! Always consult professionals and experts in the field for advice when making these decisions to ensure you are making the best investments for your home.