Home service businesses are growing in popularity as consumers increasingly look for ways to avoid leaving their homes. If you're looking for a business idea that you can start from the comfort of your own home, then a home service business might be the perfect option.
To help you get started, we've compiled a list of six home service business ideas that are particularly well-suited for entrepreneurs looking to start a business in 2021.
Cleaning Services
A cleaning service is an important business for any community. Busy professionals, families with young children, and elderly individuals may not have the time or energy to properly clean their homes regularly. That's where a cleaning service can step in to give people back their valuable time and peace of mind.
One good example of a cleaning service business is oven cleaning. Professional oven cleaning companies have the experience and expertise to clean ovens quickly and efficiently. This type of service is often in high demand, especially during the spring and summer when people prepare for significant events like weddings and family gatherings.
Lawn Care and Snow Removal
One of the most in-demand home service businesses in every community is a lawn care and snow removal. These services are essential for maintaining the appearance and safety of residential properties. A well-kept lawn can enhance curb appeal and property value in warmer months. It can also prevent pest infestations and improve air quality by reducing dust and pollutants.
During winter, removing snow from driveways and walkways improves aesthetic appeal and, more importantly, helps prevent slip-and-fall accidents. By offering these services to your community, you can provide a valuable resource while building a successful business.
Handyman Services
Starting a handyman business can be a lucrative and rewarding venture. From minor household repairs to seasonal maintenance tasks, homeowners always need reliable professionals to help with their day-to-day needs. A diverse set of skills, such as carpentry, plumbing, electrical work, and painting, can set you apart from the competition and lead to repeat customers.
Additionally, offering emergency services or being available on weekends can attract potential clients who may not have time during normal business hours. The age and condition of homes in the area will typically dictate how much demand there is for handyman services, so conducting market research before getting started is crucial.
Housekeeping Services
While having a clean and organized home can bring peace and satisfaction, finding the time to do so can be a struggle for many busy individuals and families. That's where housekeeping services come in. This service can greatly benefit any community by providing regular or one-time deep cleans for homes or even offices. Not only does it free up people's valuable time, but it allows them to come back to a clean and comfortable space after a long day.
Additionally, housekeeping services offer a necessary solution for those who may not have the physical ability to keep their living space tidy. Along with providing an essential service, starting a housekeeping business can be relatively low-cost and easy to run with just a few trusty supplies and reliable employees.
Dog Walking and Pet Sitting
Are you a dog lover looking for a way to make extra money in your community? Consider starting a dog-walking and pet-sitting business! In densely populated cities, it can be difficult for busy pet owners to find time to walk their furry friends. Similarly, families often need someone to look after their pets when they go on vacation.
Offering these services could provide much-needed relief for busy pet owners while getting some exercise and spending time with animals. Plus, the start-up costs are relatively low – all you need are good references, some flyers, and a love for dogs. It's a win-win situation for both pet owners and animal lovers alike!
Senior Care Services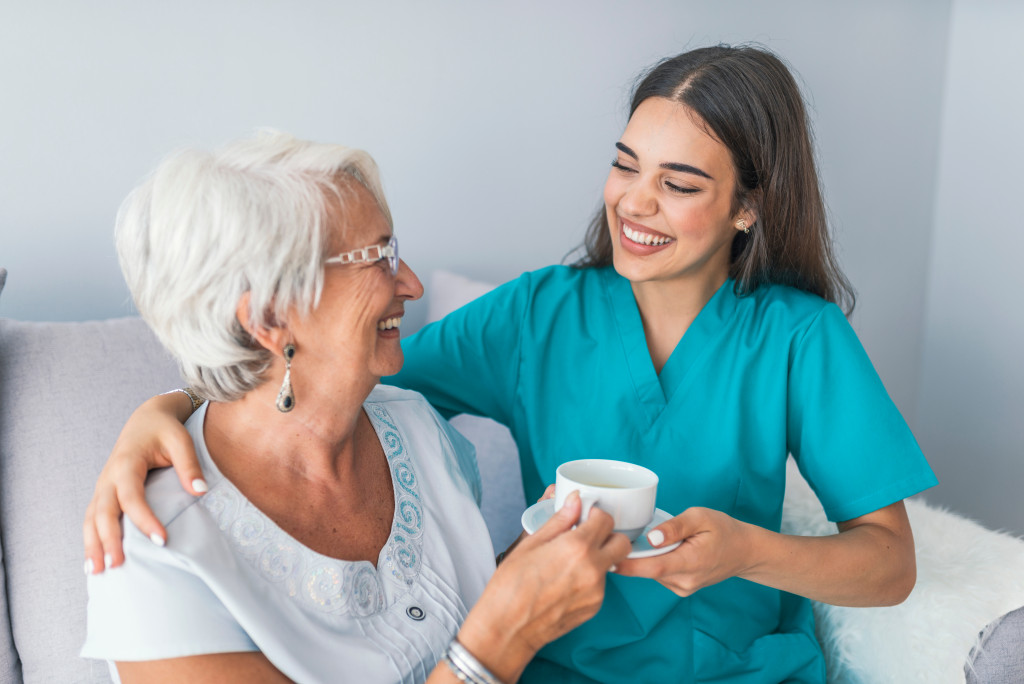 Many seniors have difficulty with daily tasks such as grocery shopping, running errands, and transportation. Senior care services can provide these essential services for the elderly community. In addition to basic errand running, senior care services can provide companionship for those living alone, assist with medication management, and offer transportation to medical appointments. These services can greatly improve the quality of life for seniors and give their loved one's peace of mind. It's also important to note that this business idea has the potential to be lucrative – as the baby boomer generation continues to age, the demand for senior care will only increase.
Final thoughts
Starting a home service business is a great way to be your own boss while also having the flexibility to work from home. If you're feeling inspired to start a home service business of your own, be sure to consider one of the seven businesses on our list. All of these businesses have strong growth potential and can be started with relatively low start-up costs.