When we decide on the finishing of our homes, the exteriors should be given the highest importance. Settling for the cheapest, substandard materials should never be an option, as they may immediately break at the first sign of a storm, compromising the overall quality and durability of your home.
And as it goes without saying, aesthetics should be the first priority, too, along with functionality. With these two qualities merging, the outcome will be a splendid curb appeal that lasts long and stands strong against the elements.
That said, here are some highly recommended exterior finishes and designs:
1. Metal Roofing
Asphalt shingles may be the go-to choice of most, but in terms of longevity and durability, metal is unbeatable. It has fire-resistant properties and is weatherproof, so even if your area gets struck by a harsh hail storm, your cars and outdoor furniture will stay unscathed. It would still help to have a hail storm damage repair professional nearby, though, just in case a hail comes and your garage roofing is still in the works.
2. Cladding, Render, and Paint
If you want your pad's exteriors to emit a contemporary look, the cladding will deliver that exact effect. It's hard-wearing, low-maintenance, albeit with a tendency to look harsh, especially on old, boxy estate homes. In that case, a good alternative would be masonry paint. Choose a neutral shade to blend all the different elements of your exteriors beautifully.
To conceal damaged brickwork, rendering should be performed, and then coat the new finish with paint.
3. Oil-Rubbed Bronze Doorknobs
Instead of going for brass, which is another popular choice since the 90's, give oil-rubbed bronze a shot. It has a bit of a vintage appeal, but not dated, thereby making your front door look more appealing and inviting.
4. Vinyl Siding
Vinyl siding is low-cost and far easier to maintain than traditional wood. No finishing is required for its synthetic material, so it's ideal for large, multi-level homes where a painting job can be too time-consuming. And despite the low price tag, it's highly resistant against weather- and pest-induced damage.
5. Uniformed Hardware and Lighting Finishes
If you're using oil-rubbed bronze for your doorknobs, choose the same material and shade for all the hardware and lighting as well. This will create symmetry, uniformity, and sophistication.
6. A Striking Front Door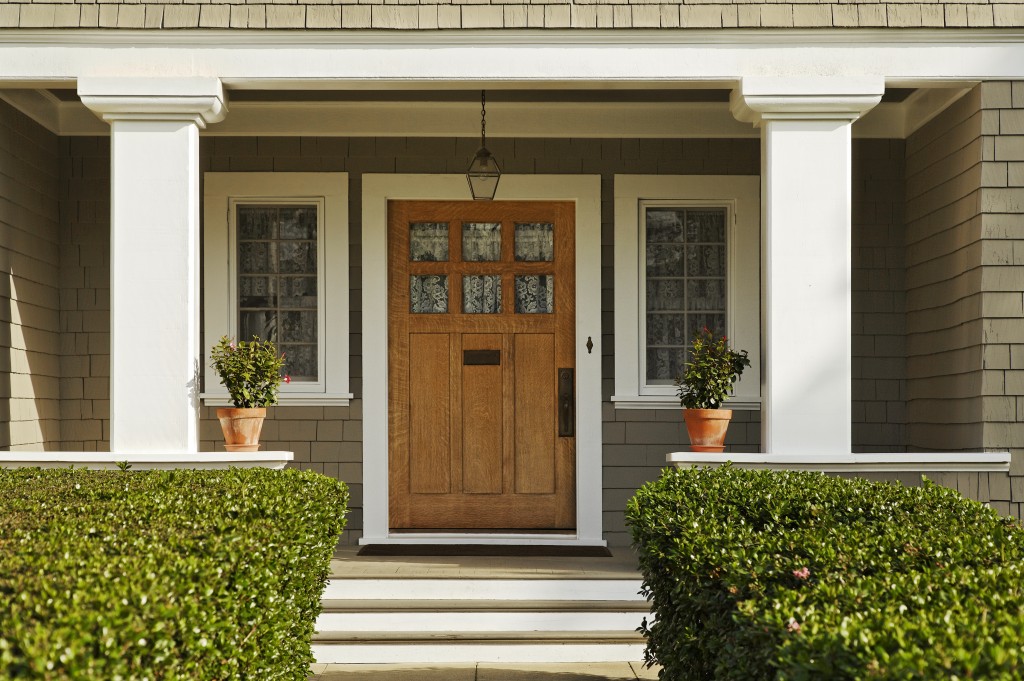 To boost your curb appeal even further, paint your front door in a striking color, and consider installing a glass insert on the top half to make it more welcoming. Use high-quality acrylic latex paint for a superb finish.
7. High-quality Patio Furniture
Back in the day, people weren't so particular on outdoor furniture, selecting only the cheapest and being contented with it. However, with trends on home decor rapidly evolving, patio furniture started being given more value. Therefore, forget the cheapest, low-quality plastic tables and chairs, and opt for a sturdier and prettier material like wood, metal, or PVC. If their price tags are beyond your budget range, you can DIY, and enjoy the perks of having a custom-made patio set.
8. Stone
For exterior accent walls, a stone finish will look magnificent and timelessly appealing. Consider stone veneers, a cheaper alternative to natural stone. With this beautiful material on a portion of your exteriors, your home will instantly look more luxurious and picture-perfect.
Before deciding to apply any of these highly recommended finishes and designs, consult a professional first to ensure that the durability and aesthetics of your exteriors will indeed be improved. More importantly, your home's value must also increase, so choose your new finishes with care.