Whether you have lost a tooth due to decay, injury, or old age, it cannot be easy to feel confident about your smile. Replacing missing teeth is important for your mouth's health and self-esteem. There are many options for replacing teeth, and your best choice will depend on your individual needs. Read on to learn about the different tooth replacement options and how they can help you restore your smile and confidence.
Dental Implants
Dental implants are popular for tooth replacement because they look and function like natural teeth. A titanium post is placed in the jawbone to act as an artificial tooth root, and a dental crown is then attached to the post. Dental implants are strong and durable and do not require special care.
Dental implants have lots of advantages, including:
They allow you to speak and eat without worry that teeth might slip
They are more comfortable than removable dentures
They can last a lifetime with proper care
You and your specialist can also choose between removable, fixed, or a combination of both to replace your teeth.
Removable
This type of dental prosthetic is comparable to a traditional removable denture. It can range from partial to full coverage and contains false teeth set against a backdrop of pink plastic gum material. The metal frame it's mounted on snaps securely into place around the implant abutment. This framework makes the piece easy to remove for either cleaning or repair needs.
Fixed
In this form, an artificial tooth is permanently installed onto the implant abutment. You won't be able to remove the tooth for cleaning or repairs, but it will appear and function like a natural one.
A fixed dental implant is a good choice for people who:
Are not candidates for removable dentures
Do not want to have their teeth removed and replaced every five to seven years
Want a more permanent solution
They do not want to worry about their teeth slipping or falling out
Combination
Another alternative is to have a combination of fixed and removable prosthetics. This implant is often employed when there aren't enough healthy teeth to support a complete set of fixed prosthetic dentures.
Bridge
A dental bridge is a great tooth replacement option if you only miss one or a few teeth in a row. A bridge consists of artificial teeth held in place by being attached to surrounding natural teeth. Bridges can be made from various materials, including porcelain, metal, or ceramic. Bridges are less expensive than dental implants but require more care because they must be brushed and flossed daily, like natural teeth. In addition, bridges typically last about ten years before they need to be replaced.
A person with two strong and healthy teeth on each side of the site to be bridged is a "good" candidate for dental bridges. The supporting roots of the surrounding teeth must have a solid foundation. People who have issues with their teeth that might need root canal therapy in the future are not suitable candidates for dental bridges as the teeth may become infected or lose strength over time.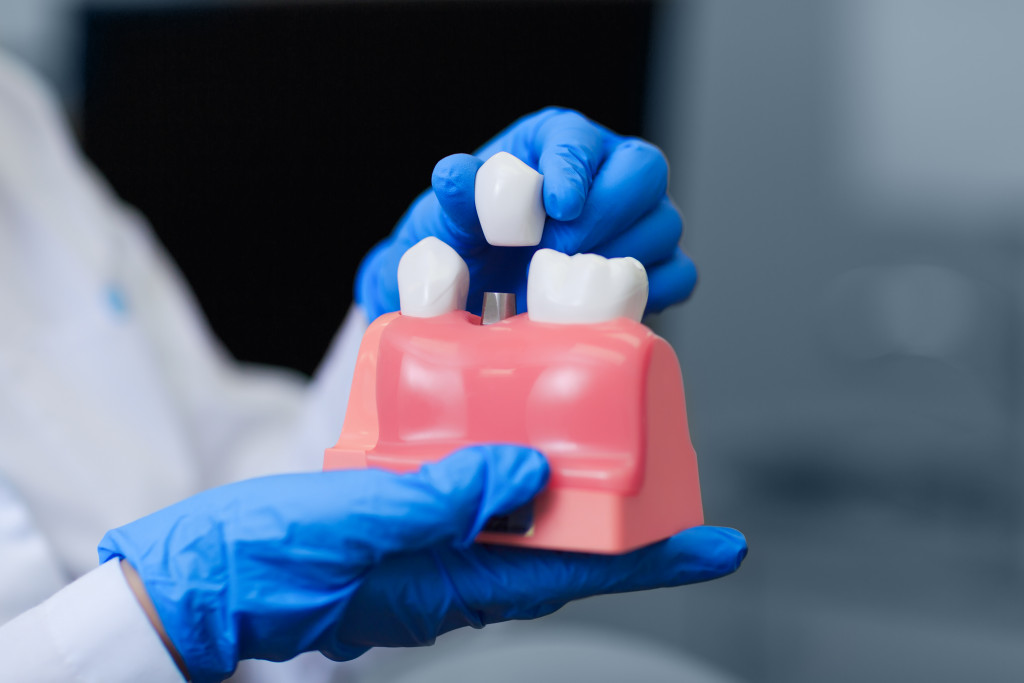 Dentures
Another option for tooth replacement is dentures. Dentures are false teeth set in a gum-colored base and can be removed for cleaning or repair. They are less expensive than implants and bridges but require more care because they must be brushed and flossed daily, like natural teeth.
Dentures are a good choice for people who:
Are missing most or all of their teeth
Do not want to undergo surgery
Want a less expensive option
Are willing to care for their dentures daily
If you are missing several teeth in different areas of your mouth, partial dentures may be your best option. Partial dentures consist of artificial teeth mounted on a plastic or metal framework. The framework is designed to clip onto the remaining natural teeth for support. Partial dentures can be removed so you can clean them separately from your natural teeth. They typically last five to ten years before needing to be replaced.
Caring for Your New Teeth
Once you have decided on the best option to replace your missing teeth, it is important to take care of them to ensure they last. Here are some tips:
Brush your teeth twice a day with a soft toothbrush and nonabrasive toothpaste.
Floss your teeth every day.
Avoid chewing hard foods or ice.
Visit your dentist regularly for checkups and cleanings.
Follow your dentist's instructions for caring for your specific type of tooth replacement.
Final Thoughts
Replacing missing teeth can be challenging, but there are various options to choose from. Dental bridges, implants, and dentures are all viable solutions with their benefits and drawbacks. It is important to consult with your dentist to find the best option for you. Once you have decided on a tooth replacement option, it is important to take care of them properly to ensure they last. Follow your dentist's instructions for proper care and visit them regularly for checkups and cleanings.