In this generation, coffee is one of the people's staple beverages. Cafes are lucrative businesses because there is one reason or another for someone to grab a cup of coffee. An entrepreneur in this line of business needs to think of ways to be on top of the list of customers.
One way for a café to attract customers is to offer outdoor seating. This set-up has great appeal to most people. For busy entrepreneurs, sitting outdoors while enjoying their coffee is a time of relaxation. For tourists, it is a perfect time to observe the local culture and appreciate the scenery. For locals, enjoying the fresh air and the bustle of the community's daily life is something meditative.
For these reasons, a café owner should not only look at outdoor seating per se. They must analyze some elements that make this set-up successful. Here are some of them.
Right Shading
Outdoor seating may have one drawback. When people are outside, they get exposed to natural weather elements. Reliable companies offering awning and canopy structures can solve this predicament. With the right covering above their heads, customers can enjoy the outdoors without the inconvenience of being too hot or getting wet.
Canopies and awnings add appeal to the look of the café. Bespoke designs can match the theme and logo of your coffee shop. They draw more customers to stop at your café even out of curiosity.
The assurance of more seating capacities can attract more customers into your doors. They have the option to drink and dine alfresco when the coffee shop is full inside.
Comfortable Seats
Customers can describe a dining experience based on how comfortable they feel. Choosing the right seats can make a difference. Your seats may go with the vibe of your café. Wooden seats strengthen a rustic theme. Metal chairs fit the industrial themed-café. You may add cushions as an extra touch for these seat materials. For more stylish cafes, cushioned seats do not look out of place even when situated outside.
The more important concern here is not the material used but the comfort it brings. The seats should not be too hard nor too soft. There should also be an appropriate height to support relaxed seating. Nobody would want to shift positions all the time while enjoying a cup of coffee and a conversation with others.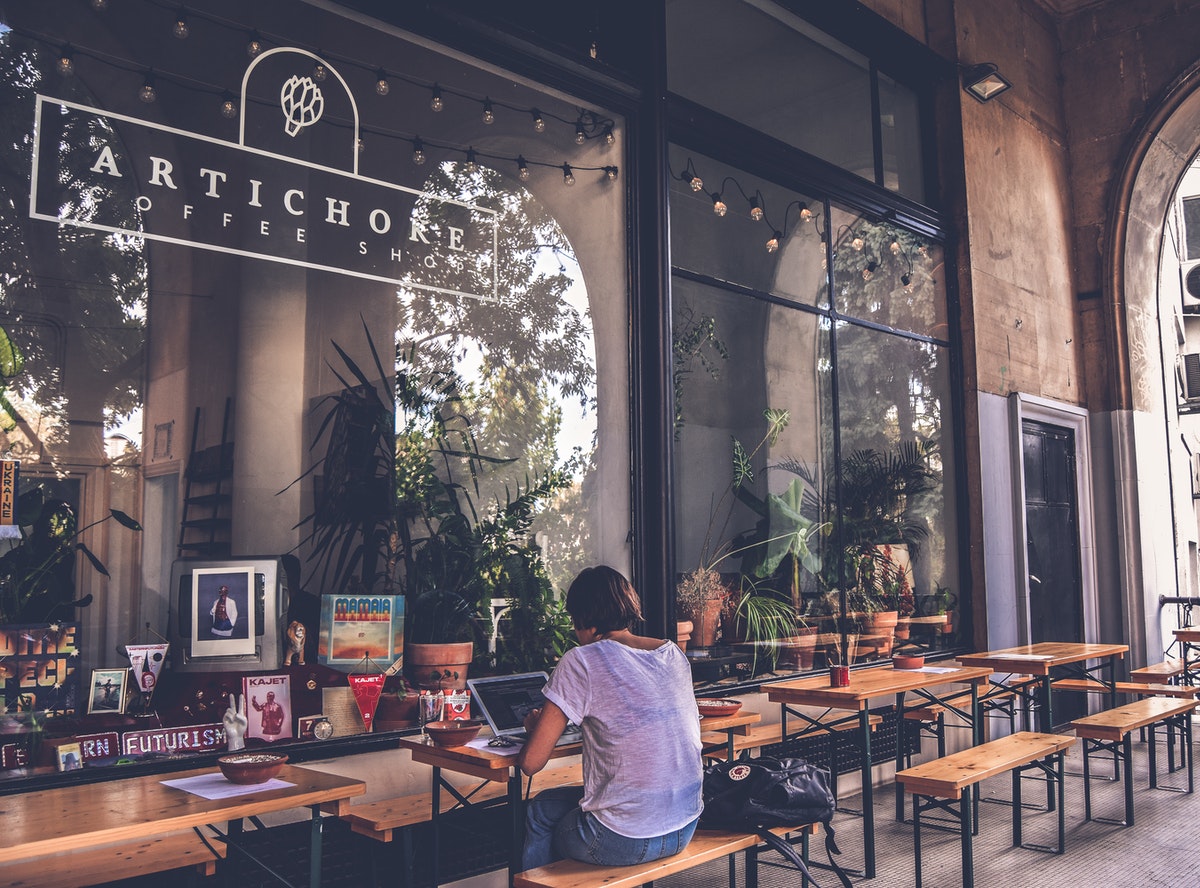 Light Fixtures
Cafes have a strong following in the late hours of the night. This may be because people are trying to have some caffeine boost to keep themselves awake and more productive. Some people love to take out their orders or drive-thru. But, others prefer to finish their orders in the café.
Without light fixtures, your outdoor seating would not be functional at night. Having the right ones will add charm to your little corner. String lights are the most popular choices as it adds to the overall ambiance. Lanterns are another famous option for outdoor lighting.
Aside from creating the mood, outdoor lighting should add a sense of security to the customers. The proper lights should discourage bad people from lurking around your cafe.
Greenery
Nothing complements the outdoors more than a lush arrangement of some greenery. Potted plants are easy to arrange in your outdoor space. You can put blooms if you want a burst of color. If you want to go for the soothing color of green, you could go for shrubs or tall, narrow plants. You may also put a trellis to let some vines crawl up to it.
The idea is to have a burst of green surrounding the customers as they sip their coffee. But, do not forget to trim and prune when necessary. You would not want your patrons to feel overwhelmed with shabby plants around them.
Level of Noise and Privacy
Nobody would want to hold a conversation above the noise of others. People would also not want others to overhear the details of their conversations. Café owners should consider these things when doing the layout of their outdoor dining area. The tables should have the proper distance to maintain a sense of privacy. It should not be too close to the road where it is prone to the noise of cars and passersby.
Some have the luxury of owning an inner garden in their property. This is also an excellent location for your outdoor dining area. You may even add on some water features here.
An outdoor dining area is not only a whim that a café owner can have. It is also not something to do to be part of an emerging trend. An outdoor dining area is an extension of a café that should undergo careful planning and extensive thought.